Welcome to the booking site, a third-party website which uses Calendly to book your PT sessions.
Bookings will be made directly with the PT's business via their chosen booking software, which has security and privacy policies different to PureGym.
If you do not want to use Calendly please click no. If you are happy to proceed please click to be taken to their site to complete your booking.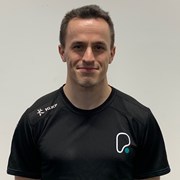 Tom Houssaye
Specialist areas
Body fat reduction

Functional specialist

Postural correction

Pre and post natal

Sport specific training

Strength and conditioning

Weight loss
Description
Bonjour à tous et à toutes !   Je m'appelle Tom and if you haven't already guessed, I'm French, but no worries I'm half English so no need to brush up on your French verbs to train with me…   My journey into fitness started when I moved from Caen to Leeds to study Sport and Exercise Science at Leeds University.  My studies have given me an in-depth knowledge of the scientific aspects of exercise and with my PT qualifications, I use them to help tailor an individual training program to suit each individual.    I was myself bitten by the Crossfit bug and have been practising for over 5 years and have also given training sessions over the past year.  It has  taught me how to push my personal limits and attain my fitness goals and I can work with you to do the same, either in 1 to 1 sessions or 1 to 2 sessions (couple/friend).   My aim is to provide a safe, effective, fun and enjoyable training session, so that you can progress . I can also help you with nutrition guidelines and lifestyle choices which will give you with the necessary knowledge to be fit and healthy on the outside and the inside.   If you're looking to lose fat, build muscle, improve your level of fitness or simply create a better version of yourself don't hesitate to contact me or talk to me on the gym floor and we can work together to smash your goals.  I also offer free taster sessions and a free first consultation.   A bientôt 😊  
Bonjour à tous et à toutes !   Je m'appelle Tom and if you haven't already guessed, I'm French, but no...
Book with me below
All payments are made directly to the Personal Trainer