Welcome to the booking site, a third-party website which uses Calendly to book your PT sessions.
Bookings will be made directly with the PT's business via their chosen booking software, which has security and privacy policies different to PureGym.
If you do not want to use Calendly please click no. If you are happy to proceed please click to be taken to their site to complete your booking.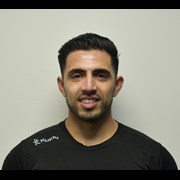 Adam Patel
Specialist areas
Bespoke plan

Body confidence

Body fat reduction

Muscle tone and development

Nutritional guidance

Persistent motivation

Postural correction

Strength and conditioning

Weight loss
Qualifications
Level 2 Fitness Instructor

Level 3 Personal Training

Emergency First Aid At Work
Description
Hi, I'm Adam. I have recently qualified as a Personal Trainer. The gym is like a second home for me. My passion for fitness and living a healthy lifestyle has developed massively over the years. So growing up, I was always a very quiet guy with hardly any confidence when it came to interacting with others. I worried about people's opinion of me, as I wasn't as academically smart as my peers. My height also played a huge factor in my low confidence and self esteem.  I decided that enough was enough and I needed to make some changes. Through my fitness and body transformation, my whole life has turned around, for the better! Since I have become more hands-on with my own fitness, my confidence has grown. I am now approachable and enjoy interacting with others - meeting new people. My mindset and attitude towards my career has also changed.  Seeing a change in myself makes me want to help others boost their fitness goals and build their self confidence, the same way I have.  I thrive on to spreading my knowledge and help you achieve your fitness goals, the way in which I achieved mine, by providing a service that is tailored to you alone. I will provide training sessions and workout programmes that you will enjoy and have fun also I will give tips and advice on nutrition. Do you require help with nutrition, motivation and exercise? If so...hit me up for a FREE consultation!
Hi, I'm Adam. I have recently qualified as a Personal Trainer. The gym is like a second home for me. My passion for...
Book with me below
All payments are made directly to the Personal Trainer